Education Support Services
Podium understand the importance of IT in schools, colleges and universities.The delivery of content to your pupils, treating them as individuals, dealing with homework and recording attendance and test results are only a few of the many things that are required. Networking throughout the buildings and wireless access to the internet are also considered to be highly important. Podium, with over 30 years of experience in IT, can help by delivering a one stop solution, providing not only the equipment, the services and the software, but also providing seamless support to your users.

Click Here to book a call with one of our IT specialists.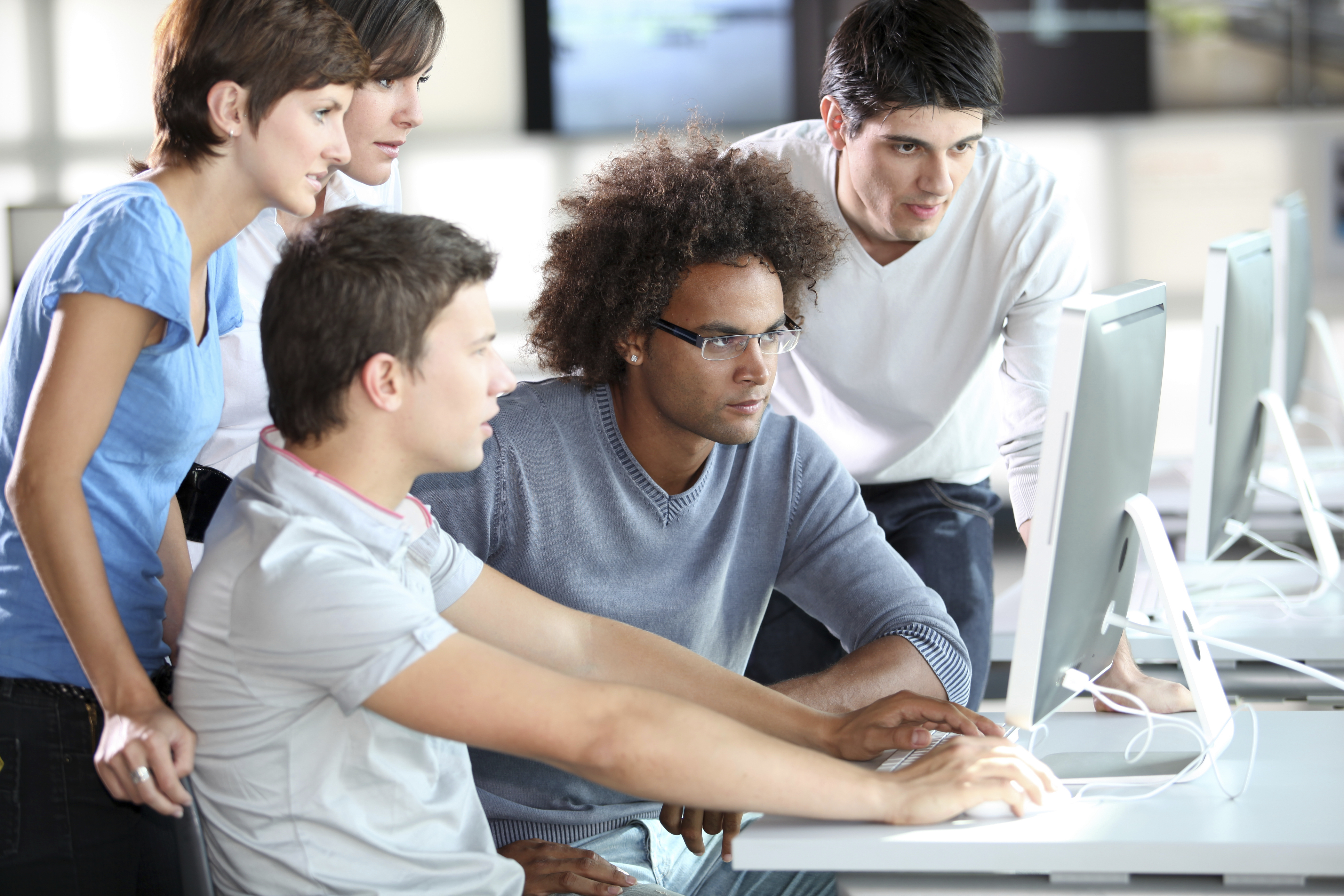 Education Services
Podium has worked with many different education boards in order to improve both their own and their students IT experience. We offer services such as Wi-Fi access points, allowing staff and students access to the internet from many different points. Internet security, making sure that the students are safe from any kind of online threat. And device and data backups, ensuring all records are safe and secure.
With all of our experience and knowledge, Podium is more than confident it can meet all of your IT requirements. Below is our full portfolio of IT services we can offer you. In addition, links to our consultancy and value added resale for our product partners can be found below.
Service Agreement Form
Consultancy Services
Value Added Resale
PCs and Laptops
Whether they're for IT based classes, for the staff or for an on site library, good quality PCs and laptops are becoming more important within places of education. Podium understands this and can assist you in find the best PCs for the purposes needed and ensuring they're up to the task of running any application required of them.
Internet Access
A stable connection to the internet is also becoming more required in education. Not only for students but also for teachers. Podium has noticed more places of education are using online hand-ins and putting class material online for students to access, and we are willing to give you the fastest and most stable connection we can provide.
Wi-Fi Access Points
With so many devices, including Laptops and tablets Wi-Fi access points are required for many devices to connect to the internet. Podium also understands that having Wi-Fi access for both students and staff alike is important for many places of education. With this in mind we can install different access points around the site for different people, depending on whether they are a student or not.
Video and Presentation Streaming
Being able to give high quality presentations is important to any class. Podium understands this and aims to provide you with the tools to easily stream videos and presentations within the site. Allowing you to give your class the most informative and clearest presentations you possibly give.
Microsoft Office
Being on of the most well recognised and versatile set of tool sets available, Microsoft Office is widely used in many places of education as well as industries. Podium understands how useful it is and how many tools it can provide to both staff and student. We can set up any Microsoft Office program you require on your systems, ranging from word and PowerPoint, to Visio and Outlook.
Cloud Computing
Having a Cloud Computing server comes with many benefits. The main benefit is being able to store files in a secure area and allowing specific users to access them as needed. This can be used for storing assignments or tests that need to be marked, or handed back. It can also be setup for the students, giving them somewhere safe to store their work.
E-Mail
E-Mail has become a go to method of communication for many people and industries, education is no different as it offers students a more effective way of contacting their lecturers with questions or for making a large announcement to students. Podium understands this and can give you a fast and fluid E-Mail platform, to make communication as smooth as possible.
Printers
Printers are an important part of any office or IT based classroom. Sometimes documents need to be printed and handed in, the same can also be said student's assignments. Podium can also offer network printers, that allow you to print from anywhere to the printers, as long as you are on the same network as it. Giving you more freedom and less problems connecting to the printer.
Cabling
Good cabling is important for a place of educations IT setup. Since there is typically a large amount of people on the network at once, data can very easily bottleneck and slow down the entire system. Podium can help prevent this, by installing a high-bandwidth cabling setup. To make sure all of the various bits of data can get to where they need to freely and quickly.
System and Network Security
Security for both the physical system and the network is especially important for any place of education. Especially since the systems will contain sensitive information about both the staff and students. Podium can offer a range of security tools, such as anti-virus and malware, internet security and firewalls to give you as much protection as possible from any threat.
Device and Data Backups
Podium is aware that any loss of device or data can be catastrophic, especially in large amounts. With this in mind, we can offer you a system to automatically backup your data to a secure drive. This way all of the data is in another secure location, if the worst does happen. It also means that there is a backup that can be pulled from on demand for smaller losses too.
CCTV Systems
Having the correct security applications will protect your IT system from most threats. However, it cannot protect it from physical damage or theft. To combat this and give extra security for the students, Podium offers a CCTV system. This system can also backup data to a system or cloud server, in order to make sure the footage is stored safely and can be easily accessed.
Consultancy Services
When you need help and advice, Podium are able to offer consultancy in a number of areas.
Network infrastructure design and strategy
Structured cabling specifications document
Efficiencies and return on investment (ROI)
Value added reseller with our registered Partners:
CCTV and cloud based systems
Network testing tools and monitoring platforms
Network, communication and technology infrastructure
Security products and load balancing
Secure cloud, strategic hosting, provision of data circuits
Data intelligence
Data cabling to data centre design and offsite backups
Mircosoft Office 365 and skype for business
Telephony platform, 24/7 remote monitoring and web design
Automated Inventory, Analysis and IT Documentation
Solarwinds – LEM, NPM, NTA & SAM Network Management
Handheld network test equipment
Click Here to contact us today or call 01604 653029.