Network Management – ITIL
Working 24/7/365 managing your visibility, compliance, control of your IT assets and licensing commitments.
Helping the business meet its ITIL, Configuration Management Database (CMDB) needs by automating key information for network management and service delivery with the Configuration Item (CIs), Service Asset Configuration Management (SACM) process, Configuration Management System (CMS) all forming multiple Configuration Management Databases (CMDBs). Simply put, a CMDB provides a defined storage structure for all relevant information within the IT environment. Docusnap and IT specialised service inventory tool once established (minimum setup) will automatically provide the business with an enriched portal to multiple reports, charts, maps and diagrams, streamline IT-Concepts like disaster recovery plans in a few clicks. Automating systems with your necessary plug-ins for the service desk and network management systems.

The four key ares for business commitments:
License Management
No hassle with complex License Schemes and License Structures. Docusnap License Management capture and compares the installed Licenses in your network with actual contracts, and detection of shadow-IT for your clients.
Maps and Diagrams
360 overview on the complete network class="text-primary">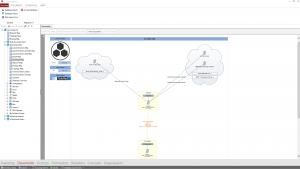 and IT-Infrastructure with one-click network maps and diagrams. Rule based detection and visualisation of relations between IT assets.
Network Inventory (ITIL, CMDB, CMS, SACM)
Scheduled, agentless inventory of hard- and software assets including the configuration of many application servers, such as Microsoft Exchange, VMware and Active Directory.
Permission Analysis
Analysis of permissions on files systems, Microsoft Exchange and SharePoint Environments. Docusnap organises the results in easy and understandable reports and maps. Permission analysis down to folder-level and subsequent monthly reports for the c-level of your clients.
Reporting
Automated it-documentation that is accessible on different levels via wiki or exportable to confluence, visio, autotask or rmm-/psa-tool of your choice. Many more in the form of over 100 integrated one-click-reports.
Customer benefit:
As a partner our customers benefits from the close contact we have with the publisher, as we are thoroughly trained in the use of the application. We help you in the creation of IT documentation in a customer networks, give advice on the purchase of Docusnap licenses and assist with questions on its features. With feedback suggestions channeled directly via the customer, ensuring all future releases maintain its prestige place in the market and continued success.
Network Management – Monitoring Tools
Powerful IT management tools to help you fix problems fast
The need for Network Monitoring has never been greater, with WiFi services accelerating rapidly. In the last few years, the volume of information flowing over wireless networks in support of voice, data, and video communications has risen by an order of magnitude. SolarWinds provides powerful and affordable IT management software worldwide from Large enterprises to small businesses. PodiumIDC work to put our users first and remove the obstacles that have become "status quo" in traditional enterprise software. SolarWinds products are easy to use and maintain, and provide the power, scale, and the flexibility needed to address users' management priorities.
Log and Event Management (LEM)
SolarWinds LEM product is a leading Security Information and Event Management (SIEM) product and log management solution, which provides log collection, analysis, and real-time correlation. It quickly identifies attacks, highlights threats, and uncovers policy violations with real-time log analysis and powerful event correlation.
Key Features:
Complete visibility and instant alerts on what's happening on the network, allowing IT team to see exactly who's logging on, and at what authority level — with full ability to quarantine, block, route and control services, processes, accounts and privileges. Real-time correlation and analysis of network activity — providing instant insight and context for each event while uncovering potential threats. More than 700 pre-configured correlation rules and dozens of active responses that help you quickly address security and compliance concerns — such as adding new users to Active Directory, managing account lockouts or stopping unauthorised installation or use of third-party applications. Compliance-ready reports that exceed requirements for regulations such as FFIEC and FDIC — and blow the auditors away with a press of a button.
Other Features: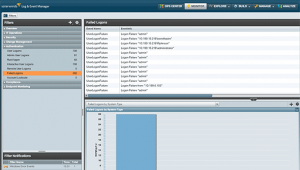 Node based licensing Real-time event correlation Search log data Real-time remediation File integrity monitoring High data compression
Network Performance Monitoring (NPM)
Using SolarWinds Network Performance Monitor which is designed for any size network checks the health and performance of your entire network for easier troubleshooting and gives fast results. NPM lets you quickly detect, diagnose, and resolve network performance problems and outages. Now with built-in deep packet inspection and analysis you can immediately determine the impact of network or application latency on user experience.
Key Features
Multi-vendor network monitoring software for fault, performance and availability monitoring – Quickly detect, diagnose, and resolve network performance issues and avoid downtime with network optimisation software. Customisable network topology and dependency-aware intelligent alerts – Respond to multiple condition checks, correlated events, network topology, and device dependencies. Automated capacity forecasting, alerting, and reporting – Automatically calculate exhaustion dates using customisable thresholds based on peak and average usage. Dynamic network maps – Automatically map devices and display performance metrics, and link connection and utilisation. End user quality of experience with Packet Capture and Analysis – Determine if changes in end user experience are caused by the application or the network. Consultant- and services-free deployment – Install and deploy expert level network monitoring software in as little as an hour with out-of-the-box monitors, alerts and reports. Wireless network monitoring and management – Retrieve performance metrics for autonomous access points, wireless controllers, and clients. Automated network device discovery – Schedule automated discovery of SNMP & WMI-enabled network devices. Wireless heat maps – Create and visualize wireless signal strengths along with the locations of all connected clients.
Other Features: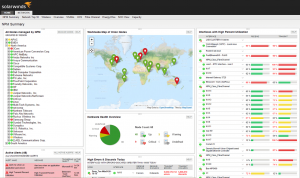 Customisable single-pane-of-glass network monitoring software Customisable performance and availability reports Network Route Monitoring Drag-and-discover network performance charts Dynamic statistical network performance baselines Flexible multi-vendor support Hardware Health Monitoring Microsoft System Center Operations Manager (SCOM) integration
Netflow Traffic Analyser (NTA)
SolarWinds Netflow Traffic Analyzer enables you to capture data from continuous streams of network traffic and convert those raw numbers into easy-to-interpret charts and tables that quantify exactly how the corporate network is being used, by whom, and for what purpose.
Key Features:
Network traffic analysis and bandwidth monitoring – Monitor interface-level network bandwidth and traffic patterns with up to one-minute granularity. Bandwidth use by user, application, protocol, and IP address group – See which users, applications, protocols, or IP address groups are consuming the most bandwidth. Customisable, threshold-based, intelligent alerts – Receive alerts when critical bandwidth performance or usage metrics are exceeded. Customisable network traffic reports – Create, schedule, and deliver in-depth network traffic and bandwidth reports with just a few clicks. Network traffic forensics – Analyze traffic patterns over months, days, or minutes by drilling down into any network element. Border gateway protocol and CBQoS performance views – View balance of network traffic across providers, and measure the effectiveness of CBQoS policies.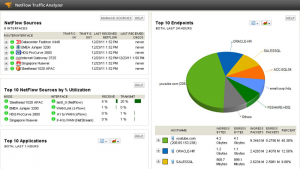 Integrated fault, performance, and configuration management – Seamlessly integrate with Network Performance Monitor and Network Configuration Manager. Multi-vendor device and flow support. – Collect, monitor, and analyze NetFlow™,sFlow®, J-Flow™, IPFIX, and NetStream® flow data. Consultant- and services-free deployment – Install and deploy in about an hour. Includes out-of-the-box monitors, alerts, and reports.
Server Application Monitoring (SAM)
SolarWinds Server & Application Monitor (SAM) delivers powerful application and server monitoring capabilities for IT pros, enabling them to diagnose and troubleshoot performance issues faster. Do not let slow applications and downtime impact your end-users and business services. Pinpoint the root cause of application issues across various layers of the IT stack. SolarWinds SAM is affordable and easy to deploy, use, and customise. You can automatically discover your system Os environment and start monitoring in about an hour.
Key Features
Automatic application discovery and dependency mapping – Download, install, automatically discover your environment, and start monitoring in about an hour. No professional services required. Hit the ground running with pre-packaged alerts and reports – Eliminate false positives with intelligent baseline alerting. Easily customize built-in alerts and reports as needed. One Web interface to monitor multi-vendor infrastructure – Powerful, affordable and easy-to-use tool that monitors 200+ applications and multi-vendor servers out of the box. Monitor applications in public, private and hybrid cloud environments – Agentless software for on-premises monitoring. Use optional agent for application monitoring in the cloud. Extensive customization—power to monitor what you want, how you want – Modify built-in templates by importing your existing custom scripts and Nagios® scripts to monitor custom applications. Part of SolarWinds Orion line of IT management software – Seamlessly integrates with other Orion® products including Network Performance Monitor for unified IT monitoring.
Other Features: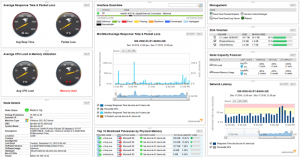 Monitor applications quickly using out-of-the-box best practices Deep performance visibility for Microsoft® Exchange, IIS and SQL Server Application dependency mapping with underlying IT infrastructure Ensure peak server performance with continuous monitoring Centralized IT asset inventory management Built-in VMware® and Hyper-V® virtualization monitoring Server volume monitoring and capacity planning Application-aware network performance monitoring Easy-to-customize, intuitive monitoring dashboard Free monitoring templates from SolarWinds online community